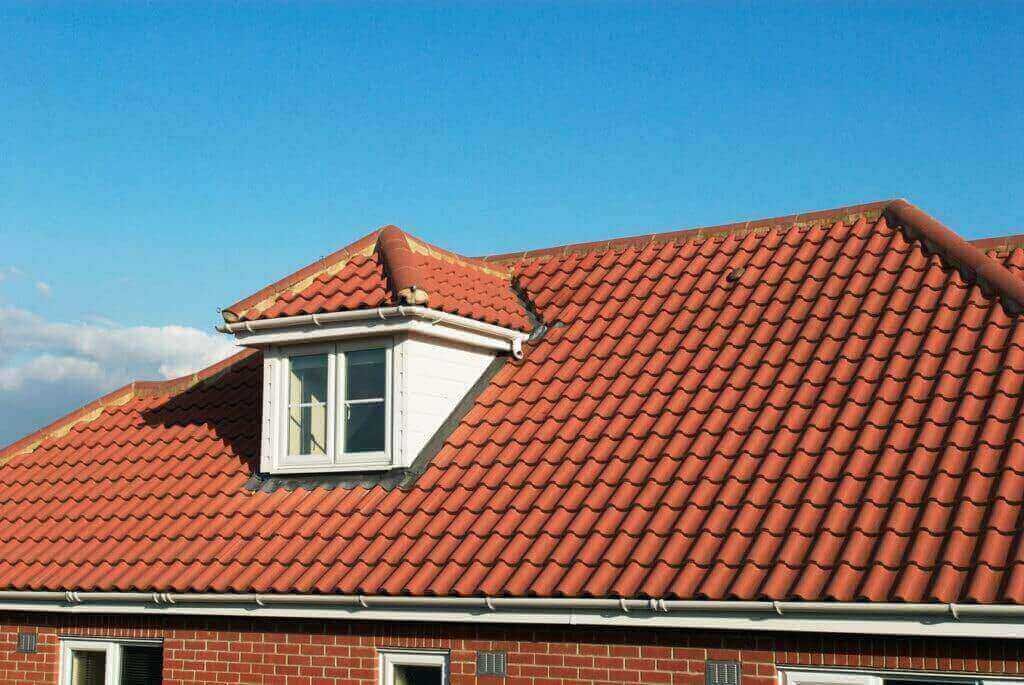 When building endure for different climate over years, the durability may be affected. Roof will be the direct area to suffer of climate and they are the main protection to us from bad weather. Hence, roof top waterproofing or roof waterproofing is very important to protect and extend the useful lives of their roof.
We are waterproofing expert in solving roof leakage and damaged problem. Waterproofing is the process of making the structure resistant from water damage. There are a lot of risk could be happen if that's leakage of rooftop. 
Rooftop waterproofing can help prevent leakage problems by adding extra layer of protection to the roof to stop water from passing roof surface and seeping into the building. There are different types of waterproofing methods for different type of roof. Hence, our roofing specialist will help determine which method is most suitable to solve your waterproofing problem.
There are some commons problem may face by our clients before they find for our roof top waterproofing service. 
Leakage of roof. Rooftop leakage may happen due to heavy rain and aged building that weak against water damage.
Heavy winds and rain trickle down to the roof's substructure causing leaks. Leakage can cause cracks and fractures thus damaging the roof.
Wet roof surfaces also causing the risk of vegetation and other biological growth such as mold that can cause significant damage.
Water leaks under roof is at risk of rotting where can spread from roof to ceiling and walls. It can break down support beams over time and causing roof to collapse.
Water seepage from slab causing ceiling to bubbling, peel off, paint turns yellow and flaky. Over time, it can cause structural instability and damage electrical appliances.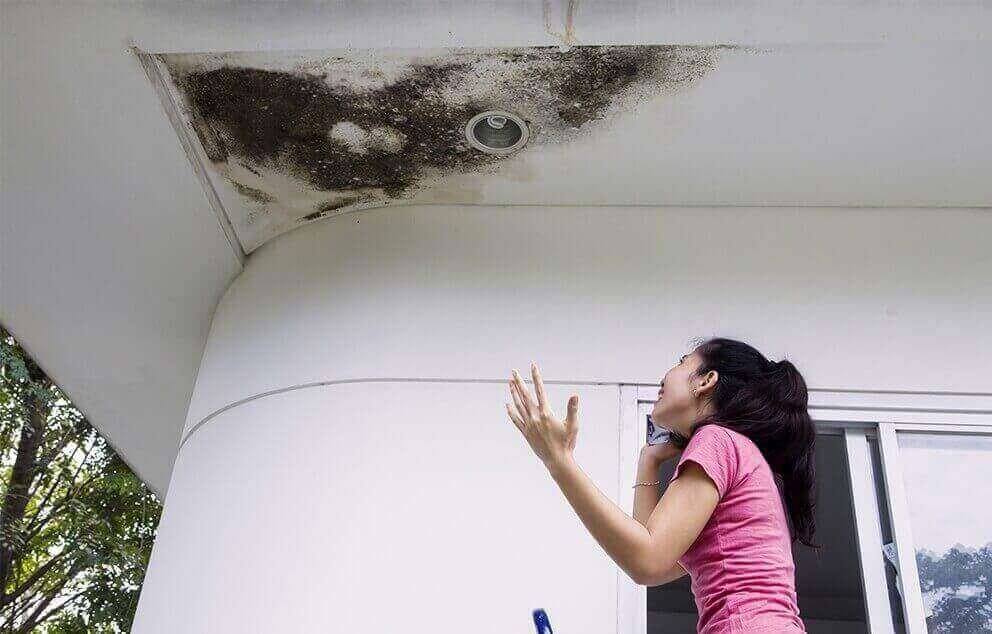 Roof can performs well for decades but eventually can start to break down. We can avoid roof wear and tear by waterproofing the roof, restoring its surface. Different building such as terrace, office and apartment roof have different designs, shapes and sizes which makes installing waterproof systems more challenging. All parts of the roof systems such as flashing, gutter and roof tiles needs to be handle properly when waterproofing so the roof can withstand longer period without leakage or damage.
 However, roof surfaces are subject to thermal excursions, from bad weather such as heavy rains or strong wind, to UV exposure and to mechanical stress. These elements can reduce the waterproofing effect and the natural coating of the roof. Damaged roof can be very dangerous if left unattended.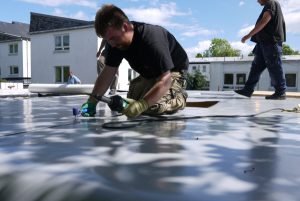 We provide 4 different types of waterproofing method to suit their roof. 
Liquid membrane is a thin coating which are applied by spray, roller, or trowel. 
Bituminous coating is a type of coating used for waterproofing and flexible protective coat and its flexibility and protection against water that can be reinforcement of fibre. 
Bituminous waterproofing membrane have torch on membrane and self-adhesive membrane. There are two types of bituminous membrane which is exposed and covered types. 
Polyurethane Liquid Membrane method of waterproofing is used for the flat roof area and exposed to weathering.
Waterproofing Membrane
Waterproofing membrane is a thin layer of water-tight material that is usually laid over on a surface to make sure water does not pass through and prevent water damage to walls, flooring and roofs. There are 2 types of waterproofing membranes, sheet and liquid applied. When compared to sheet membranes, liquid applied membranes are more sensitive and good application to get a balance and correct thickness. It is often used for most waterproofing applications as it is versatile and more flexible.
Bituminous Waterproofing
Using proper methods when repairing damaged roof using bituminous membrane waterproofing can prevent same problems to reoccur in future. When waterproofing using torched-down, we must consider the critical areas such as the butt and side welds and areas causing stagnant water that are acidic and can corrode bituminous surface over time. When dealing with slated membranes, it is recommended to use water-based elastomeric liquid membranes for maximum protection of bituminous surface. It will not only protect bituminous waterproofing function but also restore damaged roof.
Bitumen Based Roof Membrane
Roof tiles and slates are often laid in a way the water flow down the roof to prevent leaking through tiles junctions. A good waterproofing roof can prevent rainwater become stagnant, increases pressure and crack the roof tiles, causing dampness for moss formation and damage roof tiles. Bitumen based roof membranes has good adhesion to most surface, repairs and seals roofs and remains stable with extreme weather. It does not shrink or crack thus water cannot seep into. Waterproofing increase roof life expectancy and reduce major damage in the future which will cost more money.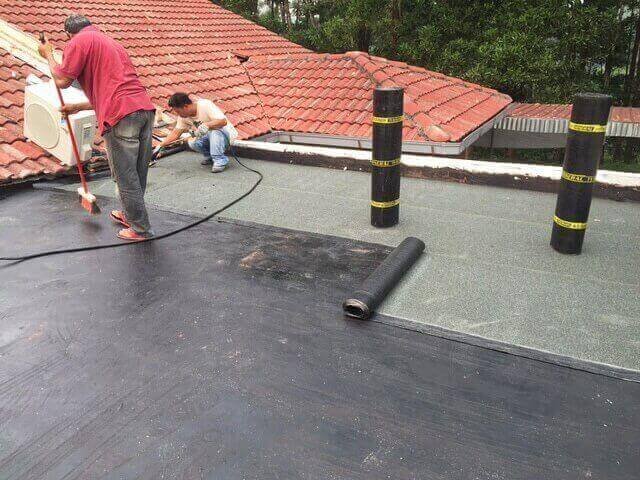 We are roof top waterproofing specialist who provide consultant and different types of waterproof membrane which suit for different types of roof.
We are currently focus in Kuala Lumpur and some nearby city within Selangor area. We are serious in providing high quality output so that the coverage of service will only focusing nearby our company.
City in Selangor include Ampang, Damansara, OUG, Serdang, Puchong, Subang, Sea Park, Shah Alam, Sri Kembangan, Petaling Jaya, and others places. While in Kuala Lumpur, we strive to deliver our services in Kepong, Imbi, Cheras, Maluri, KLCC, Segambut, Bangsar, and so on.
We focus on customer value by giving out the best quality of services. We offer cheap price yet our works are great and recommended. Our team are also the competitive advantage for our company as each of our team member are well-trained and experienced in the sense of responsible, independent and trustworthy.
Roof top are the most important protection to protect our family from bad weather. Waterproof roofs keep our roof in good condition so you don't have to worry about the next fix. Call us now!
Our roof specialist can help repairs leaky roof, replaces damage roof, install waterproofing roof for residential and commercial buildings and prevent future damage to the building. We have variety of quality waterproofing materials and different methods to best suit your roof problems. Our roofing specialist will inspect the roof and assist on which type of waterproofing systems offers best price and long term durability.
If you have others facility or technique problem, we also having our specialist, contractors and plumber ready to serves. Our services include pipe install and repair, wiring and renew and even construction renovation and refurbishment. We are capable in doing all kind of services as u may need for your house.