PU grouting is a specialized technique that involves the injection of expanding polyurethane to stop any water flowing down or through cracks or to fill voids under slabs, concrete joints or behind concrete walls and joints. It is a more popular choice compared to other waterproofing systems due to easy and fast installation and can be used for post construction applications. It also has long term durability and wear resistant, UV and weather resistant, alkaline, acid and fuels resistant.
The most common problems used this method are:
Deep holes in a wall, 

Cracks in concrete floors, 

Leakages flowing through cracks or even honeycombed concrete voids 

Water damages that can be seen in a wall that is damp.
Typically, PU injection may only engaging in those high rise building such as condominium and apartment. This is due to the maintenance process or repairing process that need to engage in high rise building are not easy.
Polyurethane injection grout is designed to react with water and expand in place, forming a tight, impermeable, elastomeric seal that immediately stops the flow of the water. Polyurethane injection grout seals in 3 ways which first injection it forms a chemical bond to the concrete surface. Secondly it forms a mechanical anchor by entering the cracks and joints then thirdly it forms as seal by expanding within the cracks and joints. Inject some additional in the end process to tighten up the foam and guarantee a watertight seal.
We may go through 4 steps in order to fully complete our injection task. 
First, our maintenance team may drilling a hole through the surface on a wall, floor or ceiling.

After confirm the actual point of the cause, we will then inject the polyurethane grout.
Then, the polyurethane grout will be expand and contact with the point of leakage. As the leakage may have water dripping through, the polyurethane will contact with water and crystalize through chemical reaction.
 Then, the final steps will be cover up the whole and observe the outcomes of the performance.
Concrete Floor Repair
Concrete floor is mostly used due to its strong, hard and long lasting characteristics but over time, concrete floor damage can occur due to frequent temperature change, causing it to shrink and expand resulting in cracks. Using injection of resin such as epoxy and polyurethane crack filling compound is recommended as its characteristics is stronger than concrete and is compatible with floor coatings and paint. It is also designed to penetrate well into smallest cracks and long durability. However, is it best to contact a specialist to evaluate the concrete floor damage whether the floor can be repair or replace, measuring sizes of cracks to identify which fillers is most suitable and to check on floor moisture.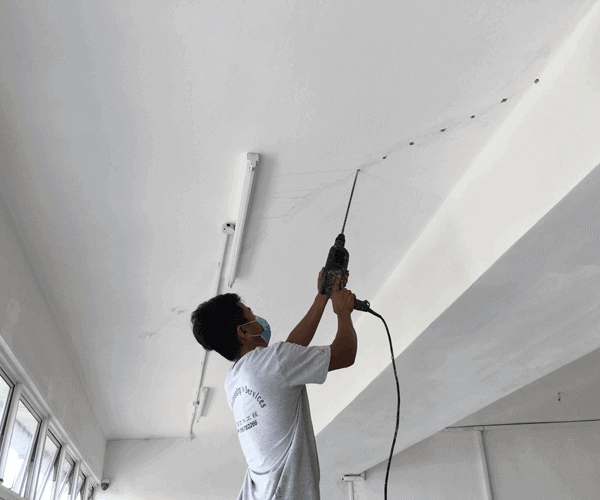 We are PU grout injection specialist who strive to give the best services through PU injection especially in high-rise residence. We are serious in providing high quality output so that the coverage of service will only focusing nearby our company especially in Kuala Lumpur and Selangor.
For KL area, we include our service in Cheras, Bandar Tasik Selatan, Sri Petaling, Kepong, Bukit Bintang, KLCC, Bangsar, Setapak and so on. In Selangor area, we focus on Damansara, Petaling Jaya, Subang Jaya, Selayang, Ampang, Puchong, Sungai Buloh, Kajang, Klang, Sungai Besi and Sri Kembangan.
We focus on customer value by providing the best quality of services. Price are definitely cheaper but our service quality are better than others. Our team are also the competitive advantage for our company as each of our team member are well-trained and experienced in the sense of responsible, independent and trustworthy.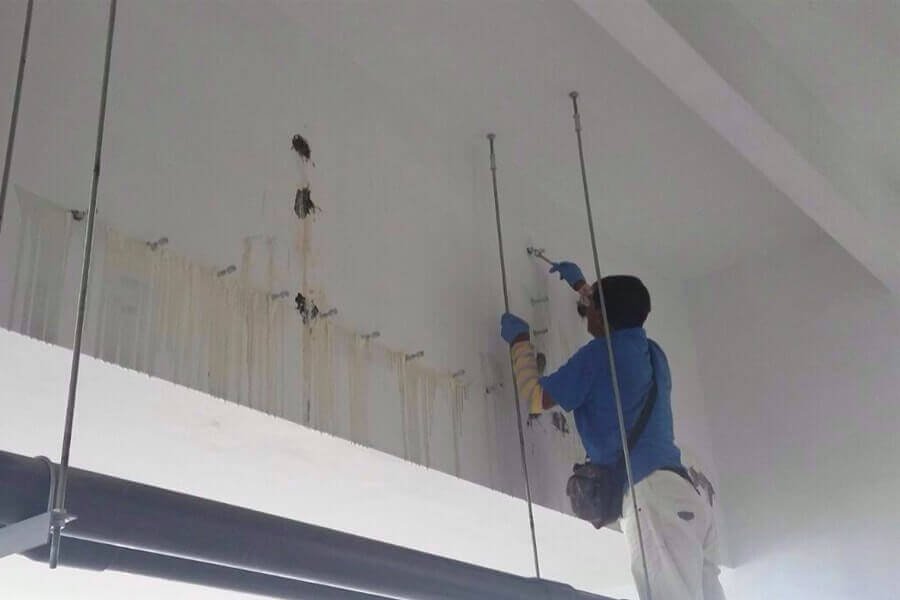 Polyurethane injection is a waterproofing technique that uses expanded injected polyurethane to prevent water flowing through cracks and joints, causing more damage. PU grout injection are important to complete the leakage of floor, wall and ceiling without any sound pollutions. This is the best idea for our clients who stay at high rise residence and care about neighbourhood harmony. Call us now for any inquiries.
Also, we have waterproof service that keep your house away from leaking. When you look for renovation, our contractors may deal with you and provide design layout that meet to your preferences. While for repair and maintenance, we contain electrical fuse and wiring installation, tree cut services, facility maintenance, piping and etc.